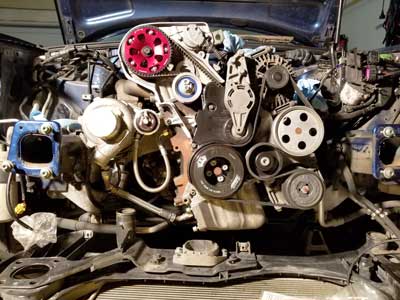 Jan
09
Should You Go MAF-Less?
The Motoza tune is built for you and we pride ourselves on accommodating the most customized of builds. While you can certainly run a MAF-less setup, there are some real advantages to including a MAF in your build when it comes to VAG cars.
Why is a MAF important?

The MAF, (Mass Airflow Sensor), is the primary fueling input for the ECUs in Volkswagens and Audis.  Motronic built ECUs largely around the concept of engine load. The MAF reading is at the heart of many of the advanced features in these ECU's. The information the MAF provides the ECU allows it to adjust fuel delivery based on actual conditions. This ensures better performance in different weather conditions and with certain hardware changes.  The ECU uses the MAF reading to help coordinate efforts with traction control, ABS, and driver inputs such as throttle. A reliable MAF reading also enhances a number of diagnostic features. This allows the ECU to detect irregular conditions above or below an acceptable range.
As power goals increase, the metering requirements for a MAF are increased substantially. Thus, the stock MAF setup in many cars becomes inadequate.  Luckily, VAG has resolved this issue across their own model ranges by using a modular system of MAF housings and sensors.  This allows the sensor to be fit into a larger factory housing capable of metering more air, and with the correct software calibration, a reliable MAF reading and all the enhancements that go with it can be preserved.
But I'm running out of space in the engine bay!


For moderate big turbo builds there are great solutions available. Motoza offers support for several draw-through MAF setups in a wide range of diameters. However, fitting a large enough MAF housing can become an issue due to limited space in the engine bay, not to mention complications with large compressor inlets and the associated plumbing.  The diverter valve is also a component that can become difficult to support in high power builds. Which means there is a strong temptation to eliminate either the MAF, the DV, or both.
If you're thinking of going MAFless for a very high power build due to space, consider a blow through MAF setup.  Blow through setups place the MAF sensor in the cold side charge piping between the intercooler and the throttle body.  This completely eliminates the packaging requirements for a large MAF housing, large turbo inlet pipe, and even the extra plumbing and fittings associated with the DV.
With a proper blow-through MAF setup it is possible to meter an incredible amount of air in a very small space.  This achieves the best of both worlds, accommodating extreme power levels without additional space requirements, and maintaining the full functionality of your engine management system.
The Bottom Line

You stand to gain by keeping a MAF. It is our recommendation to resist the temptation of a MAF-less setup.  When it comes to BT builds on Audi and VW vehicles, there are so many enhancements possible with a MAF that it really is worth finding a way to fit one.